REVIEW
TerraTech
14 August 2018
(released)
04 September 2018
It's never a bad thing to be allowed to explore vast landscapes and craft all manner of tech in the same game. Since Minecraft, players have been enjoying a multitude of other titles that allows an immense amount of crafting, free-form design and exploration in vast, beautifully rendered worlds (yes, even Minecraft has its pixel charm). But after so many years, is the genre fading out and running low on ideas? Well TerraTech might be the saving grace.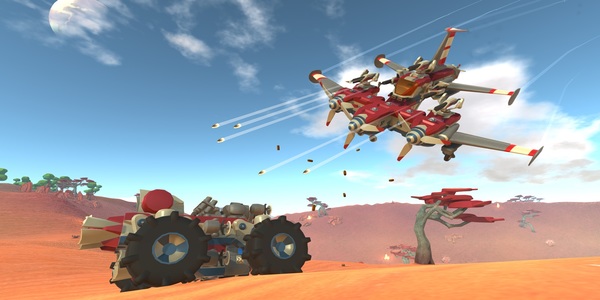 TerraTech is a neat little open world game that allows players to design and develop their own "Techs". These are multipurpose vehicles that mine, traverse and destroy enemies in their path. In terms of design, players will start off with the basics, forming single blocks together to create the basic forms of transport. Soon enough however, with hours of exploration, battling and discovery, players will be able to craft giant diggers, tanks, aeroplanes and even vehicles that resemble a giant dog's head.
Following the tried and tested method of building, players will obtain blocks which they'll piece together and build their own Techs. Blocks are a simple method yet one that proves time and time again very effective and allows for players to design whatever they truly want, so long as it moves. You'll piece together blocks and wheels to the head of the vehicle and from there, you can go crazy by adding weapon parts, special add on features that heal you in the heat of combat or just even more blocks.
TerraTech allows an immense amount of freedom when designing your very own Tech. While it's easy to consider the concept as limited as your only being able to craft Vehicles and nothing else. This fear does lessen due to the excessive creativity allowed in making your very own Techs. It goes above and beyond games such as Banjo Kazooie: Nuts and Bolts.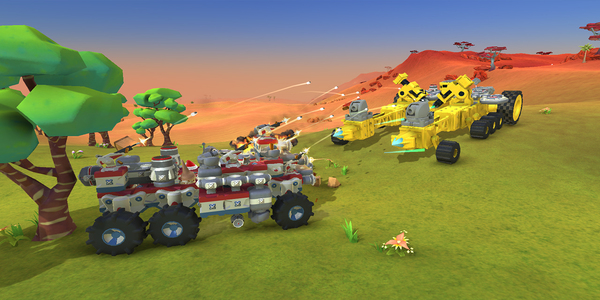 Crafting is very simple and easy to grasp, allowing players to pick up and play very quickly. While the HUD is easy enough to understand and piecing together is nothing too difficult, I suggest if playing on PC to use a controller as dragging the screen in the heat of battle does slow you down significantly and becomes a little annoying if you're facing multiple enemies.
Aesthetically this feels a little generic in presentation and doesn't stand out as much as other crafting games. It's a shame that terrains are often a little flat and bland for exploration, with little charm and visual flare. Although the soundtrack is pretty darn good.
At times the game can feel a little bit of a grind, as fighting and obtaining upgrades can be a slow process. It's a mixture of repetition and elements of trial and error. This was mainly felt during the early stages of the game, as the more weapons and add-ons you gather, the more interesting combat became.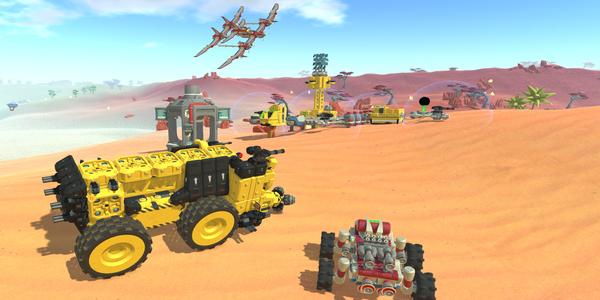 While there are some aspects of the gameplay which do drag the experience down slightly, you can count on the multiple game-modes to deliver different ways to build, develop and destroy. TerraTech is getting more content updates in the near future, including a co-op enabled feature.
TerraTech may not instantly grab your attention right off the bat; it will indeed reward curious players. There's a simple yet highly inventive method of creation, a balanced mixture of exploration and combat, which are held together by the freedom of creation. It's a shame there's a lack of interesting environments and a grind to progression. But the decent amount of game modes and upcoming updates are sure to strengthen the core experience. Neat, fun and worth checking out.
+ Creative and fun creation mechanic
+ Nice balance of exploration, combat and crafting
+ Nice sound track
- Grinding in progression
- Bland landscapes
A Steam review copy of TerraTech was provided by the publisher for the purpose of this review