REVIEW
FIFA 19
28 October 2018
(released)
12 October 2018
It is that time of year again where EA release their most successful gaming franchise FIFA, with this year's instalment promising innovation in both its gameplay and popular modes. I have now sunk a whole week into FIFA 19 and I regretfully report that yet again FIFA has done little to innovate and offer any 'wow' features in this year's game, even with its small welcomed changes.
Let's start with the game's most popular mode Ultimate Team, which at face value looks almost identical to last year's instalment, but there are a few notable tweaks that support players like myself who do not invest real money into the mode. Earning coins have become more accessible than ever before, where weekly challenges, squad builders and division placings all reward players with various packs and coin boosts. I have not spent a single dime in Ultimate Team, however have been able to rack up over 60,000 coins from completing these various challenges which gives me an opportunity to compete with players who do buy FIFA-points.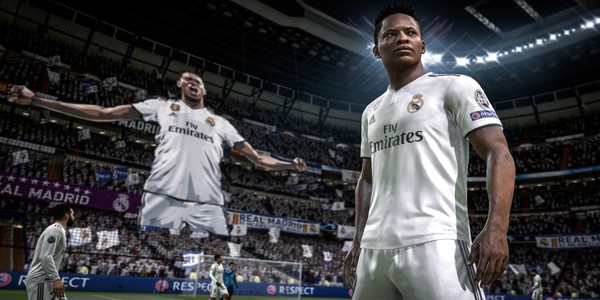 The three main components of Ultimate Team are Squad Builders, Squads Battles and Division Rivals, offers good variety in gameplay to wet your FIFA appetite. If you prefer single player then Squad Battles will likely be for you, where you are matched against a challenging AI team which if you win, you will be rewarded with generous rare packs and coins. However, if you are confident enough to test your skills online, then the most popular mode Division Rivals will be just for you, where you play multiple placement games that see your team move up the ranks to gain varying rewards. However, both these modes pressure you to play A LOT of games, where for example I played a dozen or so matches in division rivals in the first few days of release where I was ranked in the highest tier, but after taking a few days break I had dropped down to the lower tiers due to not playing enough games. So, if you do not have the time or motivation to play a dozen games a day, then don't expect the highest rewards that the game offers. Bummer!
Playing match after match can be a grind, so tackling the Squad Builder challenges is the perfect way to continue improving your club but without kicking a single ball. This mode requires you to submit a team that meets certain requirements in exchange for rewards, where for example a challenge may ask you to create a Premier League team in exchange for a rare player pack. On a few occasions the risk was not worth it, where I had created a team that cost upwards of 50,000 coins, however the pack I was awarded with had no high-value players. When you do however find a rare player from these packs, then it makes the risk all the more worthwhile. In addition, I find the transfer market one of the most enjoyable features of Ultimate Team, where finding a bargain on the market is always so satisfying and has made me feel like Lord Alan Sugar on a few occasions! The market continues to be very expensive however, so if you want the best players then you will need to cough up a lot of spare cash with prices of players unlikely to drop anytime soon.
One innovation of this year's FIFA that has split the player base is the new shooting mechanics. Last year's game saw the low-driven shot being abused, where it was extremely difficult for keepers to save these types of shots especially in one-on-one situations. FIFA 19 have tried to tackle this issue by making shooting more difficult, where mastering the perfect shot is through a well-timed button press. If you are unsuccessful in timing your shot, the ball will most likely balloon well over the bar and into row z! I personally really enjoy this change, as the amount of times I would concede a goal in FIFA 18 to a low-driven shot from a 65 rated player was infuriating, whereas now in FIFA 19 there is more skill involved when it comes to finishing.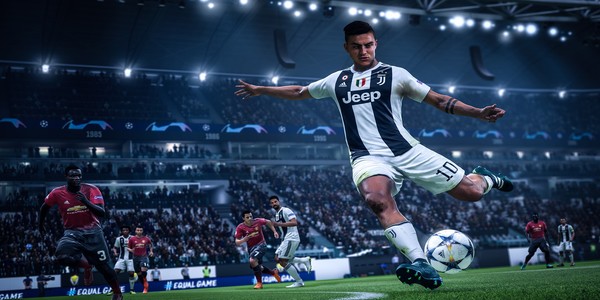 More gameplay improvements include a midfield with purpose, realistic passing and more intelligent goalkeepers. In previous FIFA titles, you could easily bypass the midfield with a looping ball from defence towards your forwards which made the midfield in many situations useless. World class midfielders such as Kante and Keita who mould their game around defensive duties are now very rewarding to use in FIFA, as most of the play is in the middle of the park. The passing system is now more reliable where the direction of your passes actually goes the way that you want them to, so no more blaming it on the game when your terrible pass goes to an opposition player! Finally, the in-famous goalkeepers in FIFA are now less brain-dead than ever before, where the keepers actually pick up a pee-roller shot instead of passing it into their own goal! While yes, they occasionally flap at the ball or let in more tame efforts, however we should expect that as it is a simulation of the beautiful game which do involve goalkeeper blunders. Just ask Liverpool fans!
Any aspiring football managers will be happy to know that Career Mode returns, where EA has secured the rights of the Champions League and Europa League competitions which add to the realism of the mode. Taking a League 2 side to Champions League glory can now become a reality! Overall however, Career Mode has seen no other changes regarding the transfer window, interaction with players or story elements which the mode has been crying out for.
The Journey mode is where EA's single player resources have seemed to be used for, with Alex Hunter's story being continued for the third year now which in my opinion is three years too many. His story has become rather stale, where me as well as other fans continue to wonder why aspects of The Journey are not transferred to Career Mode which has lacked story depth for a number of years. I hope the Journey Mode is scrapped for FIFA 20 and the features from it is developed for Career Mode which still has a loyal player base who supports it.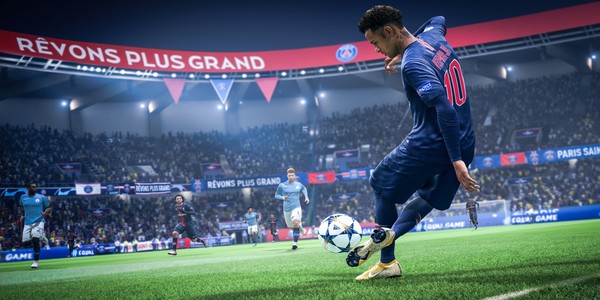 Pro Clubs and Co-Op continue to be great fun with friends, however there has not been a SINGLE change for either mode, which baffles me as both have so much potential. Creation Centre which was an old mode in last generation FIFA's allowed you to customise your team's image and players which would have worked perfectly in Pro Clubs. When your team win promotion to the next division in Pro Clubs you gain no rewards, just a congratulations message saying, "You did it!". Wow, thanks EA!
Skill games make a return giving new players an opportunity to familiarise themselves with the mechanics of the game, however I noticed most activities have been copied and pasted from previous titles. The skill games are more useful to established FIFA players than ever before, where the new shooting mechanics in FIFA 19 requires practice to execute precise shots that greatly improve your chances of scoring. Overall, skill games play yet another small and unimaginative role in FIFA 19, where passing balls into empty nets and plastic buckets leave a lot to be desired.
Even with the improved gameplay features and Ultimate Team rewards, I just cannot recommend this game due to a lack of innovation for Career Mode and Pro Clubs, which are identical to last year's title. The only reason I can think of as to why EA continue not to support these game modes is because they want to milk your money in Ultimate Team which rakes in over $800 million for EA annually, a factor that makes Ultimate Team the priority over other modes.
++ Ultimate Team rewards
+ Improved gameplay features
+ Champions League and Europa League rights
- The Journey's story is stale
-- No changes to Career Mode and Pro Clubs